New power microbes for all your digestive issues!
No matter what kind of digestive issue you have…
Occasional constipation
"The runs"
Gas and bloating
Strain when you go
Indigestion
…The powerful ingredients in
Prosentials® could help you regain
smooth, strong, regular digestion.
The biggest medical discovery of the past 150 years could bring your gut back to health.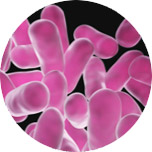 Scientists now know that your microbiome is the center of health. If your gut microbes are not in balance, the result is any of the issues you see listed above. And countless things in modern life can put your gut microbes out of balance, from additives in the foods you eat to the toxins in the environment.
Prosentials is designed to bring your gut microbes back into balance. Our superior formula contains seven probiotic strains that each perform slightly different tasks for your digestive system. No matter what, the exclusive combination of probiotic strains in Prosentials can help.
Prosentials is the only major formula to combine Saccharomyces boulardii with six of the hardiest and most active beneficial bacteria in a single daily capsule.
1. Lactobacillus rhamnosus:
THE POWERHOUSE
If you suffer with constipation, this microbe will help you get your gut back to normal. It eliminates and prevents the growth of harmful bacteria in the intestines. What's more, it helps to build a strong immune system. It also helps you neutralize bad toxins.
2. Lactobacillus casei:
THE DEFENDER
This is the microbe that promotes healthy digestion, alleviates constipation, helps tame loose bowels, reduces lactose intolerance, and helps keep your immune system strong.
3. Lactobacillus acidophilus:
THE HANDYMAN
Lactobacillus acidophilus does it all. This handy probiotic helps you fight off infections and disease. It also assists in the breakdown of foods and fights off harmful bacteria. If you have taken antibiotics before, you'll want to make sure you take Lactobacillus acidophilus. Plus it helps you digest lactose, even if you're lactose intolerant. It assists in the absorption of nutrients and production of key enzymes, and increases the rate at which nutrients are absorbed, including some that you cannot get elsewhere.11, 12, 13
4. Bifidobacterium bifidum:
THE MIGHTY WARRIOR
One of the strongest warriors in your gut, Bifidobacterium bifidum has a big job to do. It keeps your good and bad microbes balanced and controls the growth of bad microbes. Increasing the percentage of Bifidobacterium bifidum in your body can also help maintain a strong immune system.
5. Bifidobacterium longum:
THE PROTECTOR
Bifidobacterium longum is responsible for maintaining a normal digestive tract. It alleviates lactose intolerance, stimulates your immune system, and prevents the growth of bad microbes. It also improves lactose intolerance.
6. Streptococcus thermophilus:
THE CONQUEROR
This powerful microbe improves digestion and enhances immunity. Streptococcus thermophilus also soothes your stomach, helps to reduce upset stomach, and lactose intolerance.
7. Saccharomyces boulardii:
THE ENFORCER
If you are susceptible to intestinal bloating, cramping, and frequent sudden bowel movements, this is the most important ingredient for you. S. boulardii reduces bowel movement frequency and improves the texture of stools. With these being several of the most common gut problems in America, it's important to know this healthy microbe can also help you reduce their effects.
Prosentials works or your money back!
Renown Health Products pledges to provide you with Superior Grade supplements, doctor-formulated and manufactured to the highest standards (CGMP) in the industry. Prosentials is guaranteed to be the most effective digestive health breakthrough available anywhere. You'll feel soothing comfort and relief from your digestive symptoms within days. If you are not completely satisfied, just return the unused portion any time within 60 days for a full 100% refund. No questions asked, and you can KEEP YOUR FREE GIFT!